French fashion has long been revered as a pinnacle of sophistication, elegance, and innovation.
From haute couture to everyday chic, the influence of French fashion designers, iconic fashion houses, and trends has been profound, extending its reach to shape global style.
In this article, we'll delve into the remarkable impact of French fashion on the worldwide fashion industry and include a special section for French language learners about essential fashion vocabulary.
French Fashion: A Historical Perspective
French fashion has a rich history that dates back centuries. It was in the 17th century that the concept of fashion as we know it today began to take shape in France. The court of Louis XIV became a hub of style, and fashion started to be seen as a form of artistic expression.
The Birth of Haute Couture
Haute couture, a term that literally translates to "high sewing" or "high dressmaking" emerged in France in the mid-19th century. This exquisite form of fashion was born out of the desire to create exclusive, custom-made garments that were not only exquisite but also exemplified the highest levels of craftsmanship and artistry. Haute couture represented the pinnacle of luxury, and it was tailor-made for elite clientele who sought clothing that was truly unique and unmatched in quality.
Haute couture is not a term that can be casually applied to any fashion design. In fact, the Chambre Syndicale de la Haute Couture, a governing body in Paris, strictly regulates its use. To be considered a haute couture house, a fashion designer or brand must adhere to several criteria:
Custom-Made: Haute couture garments are made-to-order for individual clients. Each piece is tailored to the client's specific measurements, ensuring a perfect fit.
Handcrafted: These garments are created by highly skilled artisans who employ traditional sewing techniques. Hand-stitched seams, intricate embroidery, and meticulous beadwork are some of the hallmarks of haute couture.
Limited Production: Haute couture collections are typically small and exclusive, with only a select number of pieces created.
High Quality: The materials used are of the finest quality, often sourced from the most prestigious fabric houses. The attention to detail and quality control is unparalleled.
Innovative Design: Haute couture designers are known for pushing the boundaries of creativity and design. They often experiment with new silhouettes, fabrics, and techniques.
The Pioneering Designers
Several iconic fashion designers have left an indelible mark on the world of haute couture:
Coco Chanel
Coco Chanel, often referred to as the "Queen of Haute Couture" revolutionized women's fashion in the early 20th century. She introduced comfortable and elegant designs, such as the little black dress and the Chanel suit, that have become timeless classics.
Christian Dior
Christian Dior's "New Look" in the post-World War II era redefined women's fashion. His full-skirted, cinched-waist designs emphasized a return to opulence and femininity.
Yves Saint Laurent
Yves Saint Laurent was known for his androgynous and innovative designs. He introduced the tuxedo jacket for women and played a crucial role in modernizing haute couture.
These designers not only created breathtaking garments but also shaped the course of fashion history, setting the standard for sartorial excellence and innovation.
Contemporary Haute Couture
In the realm of contemporary French haute couture, legendary fashion houses and designers continue to set global fashion trends. Brands like Chanel, Louis Vuitton, and Givenchy maintain their iconic status, while designers such as Maria Grazia Chiuri at Dior carry forward the legacy of excellence. New creative talents from France, as well as globally recognized brands, are shaping the future of haute couture with innovative designs that blend traditional elegance with a modern, international flair. French fashion remains a symbol of sophistication and artistry in the modern fashion landscape.
The Paris Fashion Week Phenomenon
Paris Fashion Week, a renowned biannual event in the fashion industry, takes place in the fashion capital, Paris, to unveil designers' autumn-winter and spring-summer collections.
With deep historical significance, it draws a diverse array of participants, from established luxury brands to emerging talents. Paris Fashion Week is a hub of creativity, where designers push the boundaries with innovative materials and techniques. It garners global attention, influencing fashion trends and serving as a networking platform for industry professionals.
Paris remains a vibrant backdrop, where fashion enthusiasts showcase eclectic styles and trends during this prestigious and influential event, embodying the creativity, artistry, and cultural significance of the fashion industry.
French Fashion Trends
French fashion continuously reinvents itself while staying true to its core values of elegance and timelessness. Stripes, berets, the little black dress, and tailored blazers are just a few examples of French-style staples that have influenced the global fashion scene.
French fashion is renowned for its timeless elegance and the art of looking effortlessly chic. It celebrates individuality, quality over quantity, and a commitment to well-crafted, versatile pieces. French women embrace their natural beauty, favor understated accessories, and prioritize comfort. Vintage shopping and sustainable fashion are also on the rise. In essence, French fashion is about feeling confident and uniquely expressing one's personal style with an emphasis on quality and individuality.
French Language for Fashion Enthusiasts
For those learning the French language and passionate about fashion, understanding the terminology is a valuable asset. Here are some essential fashion-related words and phrases to enhance your fashion vocabulary:
La Mode – Fashion
Le Styliste – Fashion designer
La Couture – Sewing or dressmaking
Le Prêt-à-Porter – Ready-to-wear fashion
Le Tissu – Fabric
La Marque de Luxe – Luxury brand
La Collection – Collection
Le Défilé de Mode – Fashion show
La Haute Couture – Haute couture
Le Mannequin – Model
La Robe – Dress
Le Costume – Suit
Le Sac à Main – Handbag
Les Chaussures – Shoes
Les Accessoires – Accessories
Learning these terms will not only help you navigate the world of French fashion but also open doors to understanding and appreciating the cultural nuances that shape this industry.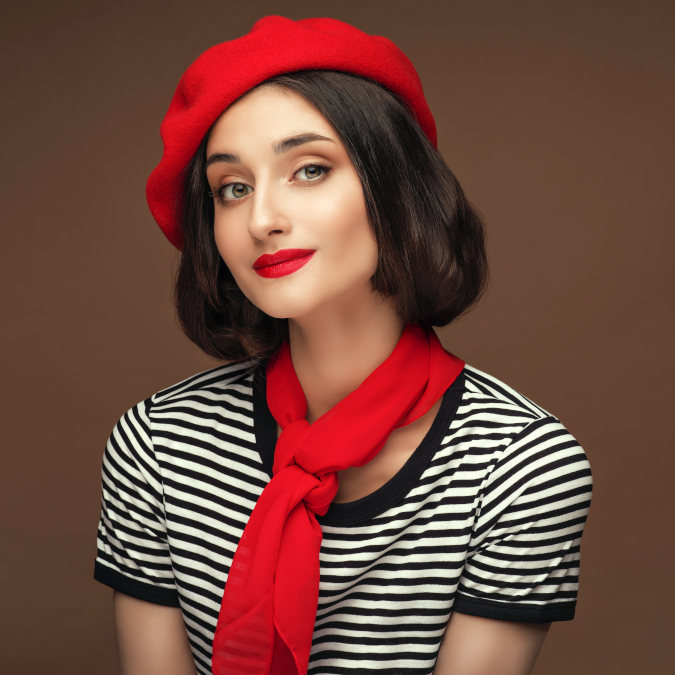 Conclusion
In conclusion, French fashion has left an indelible mark on the global style landscape, inspiring the world with its elegance and innovation.
For those eager to delve deeper into this stylish culture, L'Atelier An Phu in Ho Chi Minh City offers tailored French language classes. Whether you're an aspiring fashionista or simply intrigued by French culture, our classes will not only enhance your language skills but also immerse you in the world of French fashion, art, and culture.
Join us and let the language of French fashion become your key to a more enriching experience. Explore French language and culture with L'Atelier An Phu today!