It was about time to tackle this subject that fascinates the French as much as it surprises foreigners: cheese!
Treasure of French gastronomy, if of course cheese is not French exclusive, no other country in the world produces such a variety of cheeses, (more than 1200!) nor consumes it in so many forms, or exports it as much! France is indeed ranked first in the world when it comes to cheese exports, strong of some 70,000 dairy farms.
Surprisingly, if French people are among the biggest cheese eaters, with 27.2 kilos per year and per inhabitant, they do not rank #1, but only #4 for cheese consumption in the world, behind Denmark, Iceland, and Finland.
Let's learn more about French cheese!
What are the different types of cheese in France?
In France, cheese is made almost exclusively from the milk of these three animals: cows, goats, and sheep. But it is cow's cheese that dominates the market (approximately 85%), goat and sheep cheese being a bit more divisive in the population.
Among the cow's cheeses, we distinguish:
Blue-veined cheeses:

 These are cheeses on which mold has grown, such as Bleu d'Auvergne and Fourme d'Ambert. They are among the strongest tastes and only the bravest foreigners try them.

Cooked Pressed Cheeses:

 These cheeses are so called because they are pressed to release the liquid. The best known are: Comté, Cantal, Emmental, Gruyère, Beaufort, Tomme de Savoie, Mimolette…

Uncooked pressed cheeses:

 Cheeses pressed but not heated during pressing, they retain more water, such as Reblochon, Tomme de Savoie, Ossau-Iraty, Cantal, and Saint-Nectaire.

Soft cheeses:

 Creamy cheeses such as Brie de Meaux, Camembert de Normandie, Mont d'Or and Maroilles.
Among goat's milk cheeses, the best known are Sainte-Maure de Touraine, Rocamadour, and Selle-sur-Cher.
Finally, regarding sheep's milk cheeses, Roquefort is the most common cheese since it represents more than 80% of sheep's production.
It should be noted that there is also in the varieties of cheese the distinction between pasteurized and non-pasteurized.
What is the difference?
It's very simple: A pasteurized cheese will have the milk heated to around 65°C (149°F), whereas an unpasteurized cheese will only be heated to around 30°C (149°F). The process eliminates certain pathogenic bacteria. If in France you can buy unpasteurized cheese, it is not possible for example in the United States. This is one of the reasons why the choice of cheese in stores is unbeatable in France.
What are the best-selling cheeses in France?
Among all these cheeses, here are the most popular ones for their consumption in France.
1. Emmental
The most consumed cheese in France is not originally French but Swiss! It is number one by far since it is produced in proportions 3 times greater than the runner-up of this ranking!
Emmental, which arrived in France in the 19th century, matured for at least 6 weeks. Fermentation in the cellar takes place between 20 and 25°C, producing a very blond and unctuous paste.
2. Camembert
Arguably the most iconic cheese in the country, and for good reason, Camembert is one of the favorites of the French. Made from raw and lightly salted milk for a delicate taste, wrapped in its light yellow paste, Camembert comes to us from Normandy and the 18th century.
3. Coulommiers
Similar to Brie, Coulommiers, like Camembert, is a soft, unpressed, and uncooked cheese that comes to us not far from Paris, from the town of Coulommiers. 5 to 8 weeks of maturing are necessary to ensure its taste and quality.
How to create the perfect cheese platter?
When purchasing cheeses for your board, always keep in mind that you should always serve a minimum of three varieties: soft cheese, hard cheese, and blue or goat cheese.
If you stick to the tradition, the cheese should be served in odd numbers, usually three, five, or seven. It is usually served whole or in large chunks so that it stays soft and retains its flavor.
The "correct" order is from mildest (light) to strongest (stinkiest). So you'll usually start with cheese that's very clear and has little smell like a Comté or goat's cheese, and then work your way up to blue cheese.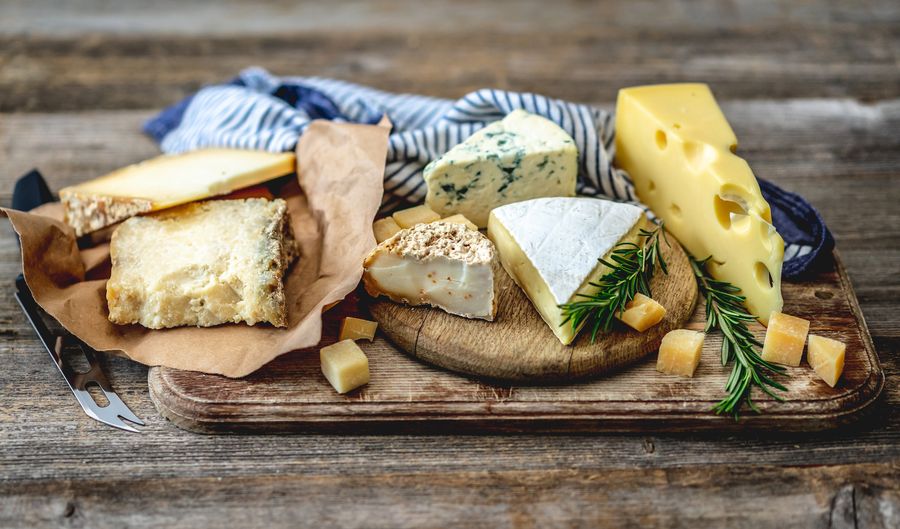 How to store your cheese?
Your cheese will be kept in the refrigerator. Be sure to take it out about thirty minutes before consumption. Note however that it is easier to cut hard cheeses when they are cold rather than at room temperature.
Be sure to save the wrapping paper the cheese was purchased in for reuse. Avoid exposing the cheese directly to the air in the fridge and avoid using plastic packaging.
When do we eat cheese?
In France, cheese can be served for lunch and dinner, usually after the main course and before dessert. However, it is widely acceptable to eat cheese at any time of the day, including breakfast, and whenever the urge strikes! Some entire meals can be built around cheese: cheese platters, raclette, fondue, etc.
How to cut the cheese?
The most common way is to cut it into triangular wedges, but it depends on the cheese, as each shape has its way of being sliced:
Round cheeses (e.g. Comte): cut into thin triangular sections that look like slices of cake (should be the thickness of a pencil)

Log-shaped goat cheese: cut into parallel slices

Square cheeses: cut into triangles

Rectangular cheeses: cut into slices parallel to the rind

Pyramid-shaped cheeses: cut a slice, then divide it in half

Wedge-shaped cheeses (eg Brie, Roquefort): cut along the side of the diagonal wedge.
Very important: if you are doing a tasting with a cheese platter, be sure to use different knives depending on the type of cheese, so as not to mix the tastes and textures.
What to do with the rind?
The eternal debate of the cheese rind: should we eat it or not? It depends on your taste as all rinds are edible, but in general here's how to do it:
Hard cheeses: do not eat the rind.

If the cheese is very soft, sticky, or in a wooden crate: eat the rind.

Goat cheese: eat the rind.

Blue cheese: eat the rind.

If the cheese has a wrinkled textured rind: eat it.

If the cheese has spices, herbs, or other flavorings on the outside: eat it.

If the crust is very moldy, particularly thick, crispy, or gray or dark in color: depending on your personal preference.
Which wines to drink with cheese?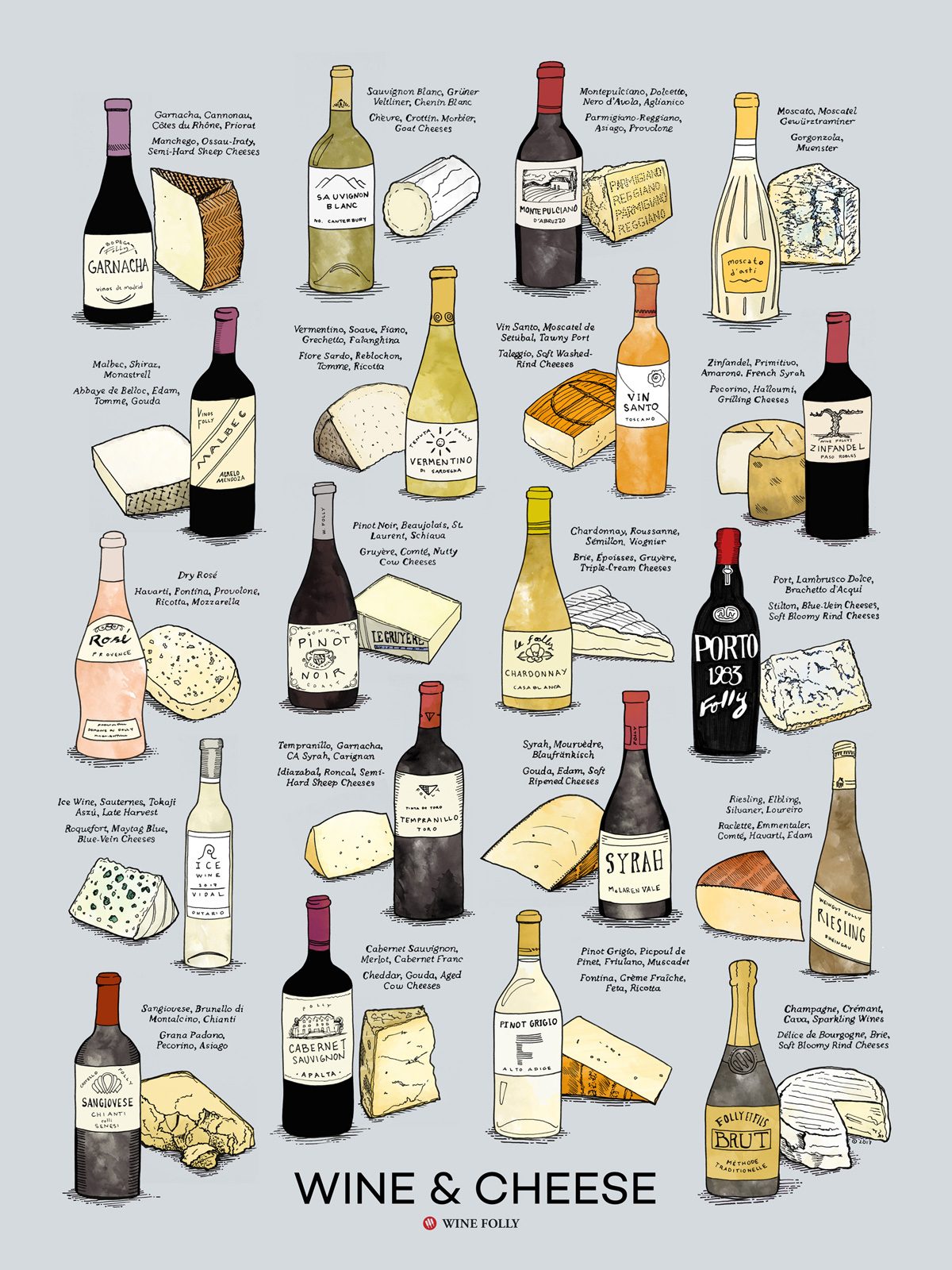 Which wines to drink with cheese?
Pairing wines and cheeses is an art! You can experiment with it yourself and learn how to create the best combinations on your own. But for beginners, here are 5 tips to get you started:
Tip 1: Match products of equal intensity. For example, a delicate fruity flavor of Comté will go better with a Pinot noir (light, fresh), than with a Cabernet Sauvignon. Generally speaking, low alcohol wines (less than 12.5%) will go with delicate cheeses and stronger wines with more intense cheeses.
Tip 2: Powerful red wines go best with aged cheeses such as Cheddar, Gruyère, Gouda, and Parmesan, which are high in fat.
Tip 3: Pair the smelliest and strongest cheeses with sweet and light wines. For example, a Sauternes or a Gewürtzraminer with Roquefort.
Tip 4: Sparkling wines (champagne, crémant) go well with soft cheeses such as Brie, Munster, Camembert or Époisses de Bourgogne.
Tip 5: Work with geographical regions and proximities. Trust local traditions and pair wines and cheeses from the same region. Some good examples of this include Sauvignon Blanc with Goat Cheese (Loire Valley, France), Chardonnay with Époisses de Bourgogne (Burgundy, France), and Garnacha with Manchego (Spain).
---
Did this article make you want to learn more about the French language and its culture?
---