Recently, we wrote about the opportunity to study abroad, especially in France, after studying in Vietnam. Openness to the world, new skills, and exceptional or rare fields are all reasons that can push a Vietnamese student to study abroad.
However, the quality and choice in terms of higher education in Vietnam and Ho Chi Minh City in particular are increasing. The city is also becoming a university exchange destination in several fields of study, such as that of law, welcoming foreign students from all over.
This is why today, we propose to present to you some of the best (or most renowned) universities in Saigon. To do so, we will base our article on the ranking of the 67 best universities in Vietnam, developed by the Unirank site.
Top #1 : Ho Chi Minh City University of Technology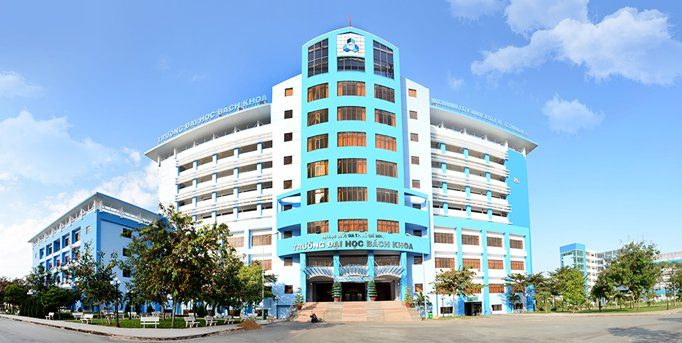 Number 3 in the country according to the ranking, the HCMC University of Technology is entirely public and has existed since 1957. It has one of the largest student populations in the city, with more than twenty thousand students, as well as 1000 to 1500 professionals. It is particularly renowned for its research work, and only 20 to 30% of the applications are selected by the University.
Even if there are some Social Sciences and Business courses, this university mainly trains future great Vietnamese engineers, in fields as varied as Automobile, Bridges and Roads, Chemistry, Electronics, Mechanics, Petroleum, Food, Industry, Environment, Cybersecurity, Telecommunications, Construction, etc. All these fields have different degrees: bachelors, masters and doctorates, with a wide choice of specialization.
Teaching is done in English, and the University has partners in New Zealand, Australia, and the United States, for students wishing to spend years abroad.
Annual registration costs :
Vietnamese : from 0 to 2,500 USD (scholarships possible)
Foreigners: from 2,500 to 7,500 USD
Contact information :
Address : 268 Ly Thuong Kiet, District 10, Ho Chi Minh City 700000
Telephone : +84 (28) 7300 4183
Website : https://www.hcmut.edu.vn/
Top #2 : University of Economics Ho Chi Minh City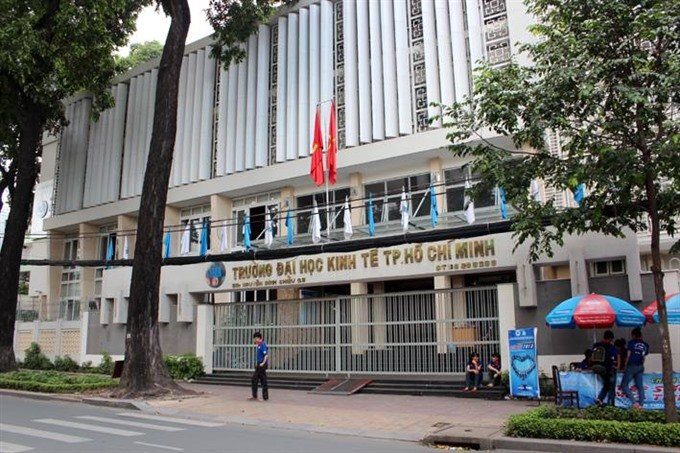 Number 8 nationwide, the HCMC University of Economics, as its name suggests, specializes in the study of economic, social, and business fields, and can boast an employment rate of 95% in the year following graduation.
Their initial paths are as follows:
Economics, Economics of Agriculture and Rural Development, Political Economy, Investment, Human Resources Management, Real Estate, Management, International Business, Foreign Trade, Marketing, Commerce, Tourism Management, Public Finance, Taxation, Finance, Risk Assessment, Financial Investments, Banking, Capital Markets, Public Accounting, Private Accounting, Auditing, Statistics, Commercial Law, Business English and more.
Existing since 1976 in its premises of very recognizable origins, it now brings together more than 30,000 students received by exams, for some 700 teachers, distributed in more than a dozen locations in Saigon. The teaching is done in Vietnamese and English depending on the curriculum.
The university has many prestigious partnerships around the world:
In France : Université de Strasbourg, Université Paris-Dauphine, La Sorbonne, Université de Lille, ESCP Europe.
In America : Université de Québec, Harvard.
In Australia and New Zealand : University of Western Sydney, Victoria University in Melbourne, Victoria University in Auckland, Massey University.
Others : University de Tampere (Finland), University of Aberdeen (Scotland) University Woosong (South Korea).
Annual registration costs :
Contact information :
Address : 59C Nguyen Dinh Chieu St., Ward 6, Dist. 3, HCMC (Campus A)
Telephone : +84.8.38295299
Website : https://ueh.edu.vn/
Top #3 : VNUHCM University of Science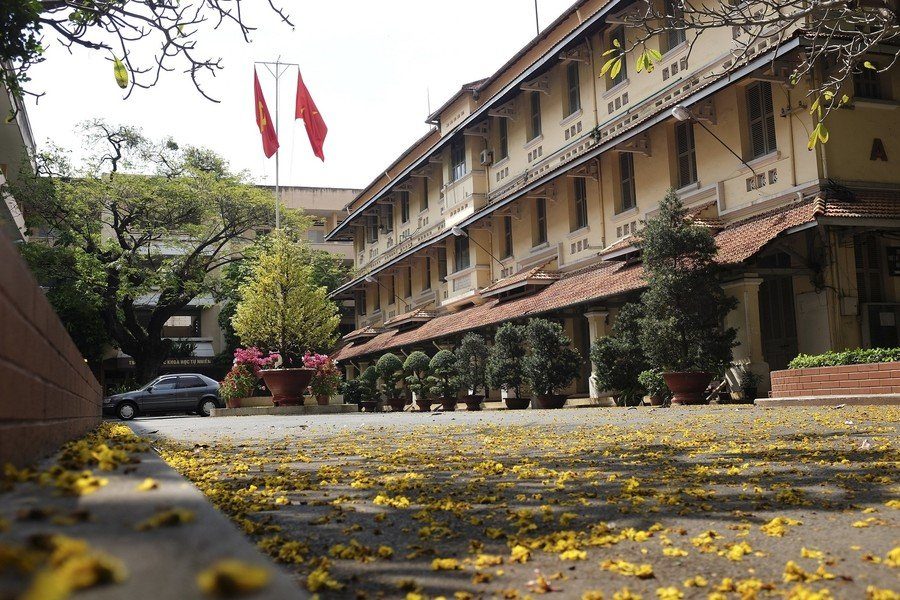 If its original history begins in 1941, the University has been reformed several times, with its most recent iteration in 2007. 10th university at the national level, the University of Sciences of Ho Chi Minh City brings together different structures:
Faculty of Mathematics and Computer Science
Faculty of Information Sciences
Faculty of Physics and Engineering
Faculty of Electronics and Communications
Faculty of Chemistry
Faculty of Biology and Biotechnology
Faculty of Geology
Faculty of Environment
Faculty of Material Sciences and Technologies
Naturally, each faculty has its own specialization departments (between 3 and 8 per entity).
Entrance to this University is done by examination (one of the most selective in Vietnam), with less than 10% admission. It welcomes around 13,000 students and offers 52 "Undergraduate", 32 "Graduate", and 29 "Phd" (Doctorate) courses on its 2 campuses in District 5 and Thu Duc.
Many foreign programs and partnerships are available. Thus, in France are concerned the University of Lyon 1, the National Polytechnic Institute of Grenoble, the University of Toulouse 2, the University of Orleans, and more. Internationally, Taiwan, Japan, China, Singapore, South Korea, Thailand, Malaysia, Australia, Canada, and the United States are represented. For more information on these international partnerships, please see this link.
Annual registration costs :
Vietnamese & Foreigners : from 0 to 1,000 USD (scholarships possible)
Contact information :
Address : 227 Nguyen Van Cu Street, District 5, Ho Chi Minh City
Telephone : +84 (8) 3835 3193
Website : www.hcmus.edu.vn
Top #4 : HUTECH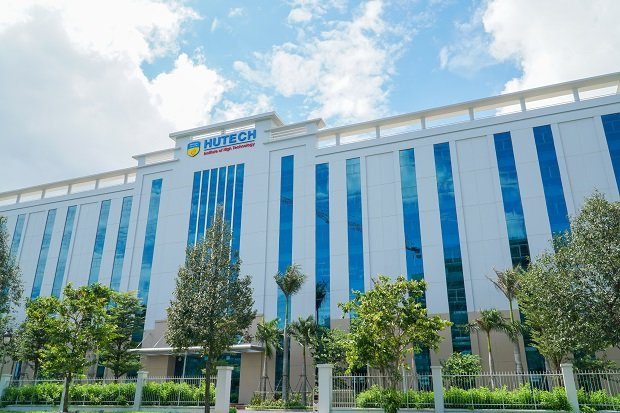 12th University on the Vietnamese ranking, undoubtedly one of the best known, largest, and most recent (founded in 1995), HUTECH is also one of the most versatile universities in Ho Chi Minh, bringing together a vast number of Faculties and programs:
Information technologies, Business Administration, Accounting Finance and Banking, Architecture and Arts, Social Sciences, Law, Civil Engineering, English, Japanese Studies, Tourism, Communication and Design, Management of Information Systems, Engineering, Applied Sciences,. .. In short, whatever path you wish to choose, HUTECH will be able to offer you a course. Find all their programs on this link.
Present at three locations in Saigon, this University welcomes a total of approximately 25,000 students and more than a thousand teachers.
Admission to HUTECH is broken down into several factors:
65% for the results of the secondary school leaving exam
25% for the average results at High School level
10% for the result of the national university exam
Note that the admissions sessions are done 8 times a year.
Unlike its counterparts, the HUTECH seems less internationally oriented, with few partnerships abroad. A less advisable choice for students who do not speak Vietnamese and who wish to travel.
Annual registration costs :
Contact information :
Address : 475A Dien Bien Phu Street, Ward 25, Binh Thanh District, Ho Chi Minh City
Telephone : +84 28 35120783
Website : https://www.hutech.edu.vn/
TOP #5 : Ho Chi Minh City University of Information Technology

Created in 2006, this University already ranks 13th among Vietnamese Universities and is an ideal choice for fans of new technologies.
About 6,000 students are present at the HCMCUIT under the supervision of the Scientific Committee composed of 25 members and divided between the following faculties: software engineering, information security, information technology, networks and communications, technologies of finance and banking, information systems, digital media, and of course, computer science. Students are also trained in the English language.
In addition, the University has research programs in the fields of robotics, mobile networks, and much more.
Annual registration costs :
Contact information :
Address : Quarter 6, Linh Trung Ward, Thu Duc District, Ho Chi Minh City.
Telephone : (028) 372 52002
Website : https://en.uit.edu.vn/
TOP #6 : Vietnam National University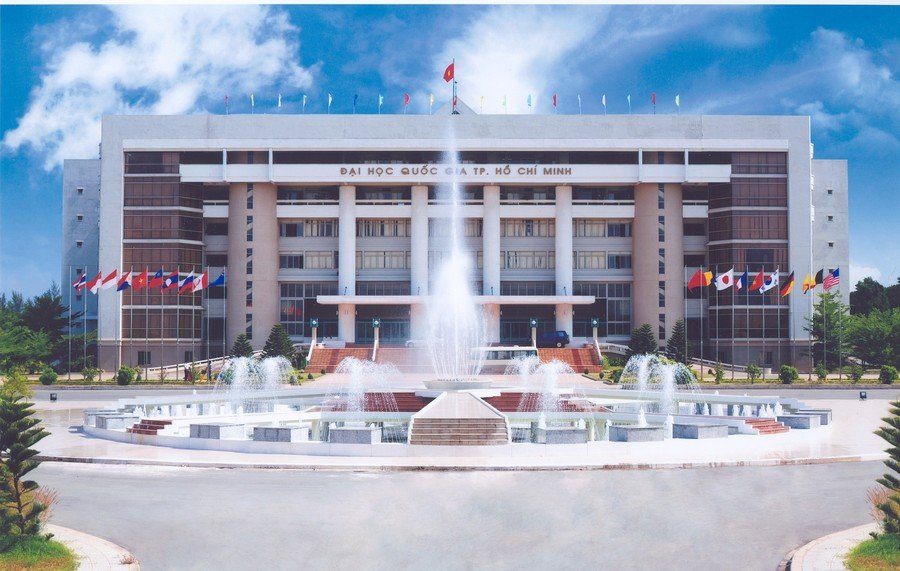 E
Existing since 1995, the Vietnam National University is in Saigon the University with the most students: 60,000 according to the administration, selected by entrance exams at the national level.
The university has 27 training, scientific research and technology transfer units, as well as 8 units: the University of Technology, the University of Sciences (previously seen), the University of Social and Human Sciences, the International University, the University of Information Technology (previously seen), te University of Economics and Law and the Institute of the Environment and Resources.
The training program of the VNUHCM is therefore one of the most complete in Saigon, comprising 99 groups of disciplines, ranging from technology to natural sciences including social and human sciences, economics, health care, etc, all for a total of 121 masters and 89 doctorates.
To discover the staggering number of its formations, you can consult the Wikipedia file of the UNV, which lists these by departments/faculties.
The university is also affiliated with a gigantic network of partners such as the French University pole, the medical school, the institute for nanotechnologies, for innovative materials and architecture … and has funds for development, for science and technology, … in short, it is one of the most active and influential.
Annual registration costs :
Contact information :
Address : Linh Trung Ward, Thu Duc District, HCM City
Telephone : +84 (8) 823 0494
Website : https://vnuhcm.edu.vn/
TOP #7 : Ho Chi Minh City University of Agriculture and Forestry

Let's change our scope a bit with the Ho Chi Minh City University of Agriculture and Forestry, existing since 1955, and ranks 15th nationally.
Between 20 and 25,000 students are present, with an admission rate between 30 and 40%.
You will have in this very original (yet fundamental !) university specialized courses, with departments in the following fields: Agronomy, Animal and Veterinary Sciences, Economy, Engineering and Technologies, Environment and Natural Resources, Fisheries, Science and Technology of Food, Foreign Languages, Forestry, Information Technology, Land Management, and Real Estate, Sciences, Biotechnology, and finally, Chemistry.
The HCMCUAF also has research departments on the subjects of Wood and paper, Climate Change, Technology Transfer, etc.
Note that there is a campus in Pleiku.
Annual registration costs :
Vietnamese : from 0 to 2,500 USD (bourses possibles)
Foreigners: from 2,500 to 5,000 USD
Contact information :
Adress : 268 Ly Thuong Kiet, District 10, Ho Chi Minh City 700000
Telephone : +84 (28) 7300 4183
Website : https://www.hcmut.edu.vn/vi
FAQ about Universities in Saigon
How much does it cost to study in Saigon? What are the tuition fees?
Studying in the public system is relatively cheap in Saigon, with each year costing less than 2000 USD on average. Under certain conditions, education can even be free. However, an excellent command of the Vietnamese language is necessary for most schools. At the time of this article, it appears that very few curricula are entirely in English.
Regarding private international universities, it is obviously a different story. If we take the RMIT tuition fees as an example, they are around 12,500 USD per year for most curricula.
Why study in Vietnam?
As a fast developing country with a GDP growth of around 7-9% per year, an emerging middle class, and a labor market always on the lookout for new talents, Vietnam is a very promising country for young graduates. Obtaining an international diploma in Vietnam is one of the best ways to start a career there.
Manufacturing industries are especially popular, with many multinational companies doing business in Vietnam, so engineers of all sorts are in high demand.
What are school years like?
As for many other countries around the globe, academic years at most Vietnamese universities are based on semesters and begin in early September. First semester classes conclude in early January, followed by exams and a holiday period for Tet, the Lunar New Year. The second semester runs from mid-February through late June, followed by final exams.