If the United States and Japan appear to be the undisputed world leaders when it comes to the production of comics (and Manga), let's not forget that the French world is far from being left behind, with countless authors and iconic series, with readers staying true to their own culture!
Indeed, according to a study by the French National Book Center conducted in 2020, it appears that the French are more fond of "Bande Dessinées" than their foreign equivalents (Comics or Manga), which means that the tradition is still strong to this day.
In this article, you will learn more about the culture of "Bande Dessinées" or "B.D" in France, and you will find our suggestions and ideas for learning French while reading comics!
Consumption habits in France: Key figures on comics
1. Comics, for children, but not only.
The Comic Strip indeed is one of the means favored by families for teaching children to read, since 77% of children read comics (at least one book per year). But adults do not forsake this art, since 43% also indulge in it.
2. A predominant paper format.
As with books, the French are quite reluctant to use electronic formats. E-readers are indeed much less popular in France than in other developed countries, and this is also the case for comics since 99% of the inhabitants of France prefer the paper format. Despite this preference, 1/4 of children and 1/3 of adults reading comics can use the digital format (equal proportion between tablets and computers).
3. Comic readers are real readers.
Very rare are the readers of comics who do not read books. Children and parents alike read novels, documentaries, or children's albums as well as Comics. And that is understandable! They are not competing but complementary activities, with different uses and pleasures. Shorter and therefore more practical to read, comics can seem more accessible, and are one of the best ways to start reading, since the 1st comic is read on average at the age of 7! The images allow us to contextualize an action, an exchange, and a story … which is determining for learning, in addition to being works of art in their own right.
4. The role of libraries.
French libraries are known to accommodate a solid share of comics on their shelves, and this is reflected in the practices of readers since one in two children who read comics borrows them (and one in four adults).
5. An indisputable passion.
91% of children "like" to read comics, and 49% "love" this activity. Among adults, this passion appeals to 74% of the population (with 27% of them declaring that they love comics). For the former as for the latter, this activity is even the 4th favorite leisure activity.
Despite the ever-growing competition from new leisure activities (TV series, video games, etc.), the "Bande Dessinée" therefore still occupies a dear place in the hearts of French people today and constitutes one of the pillars of their culture.
The best French-language comics for children
Astérix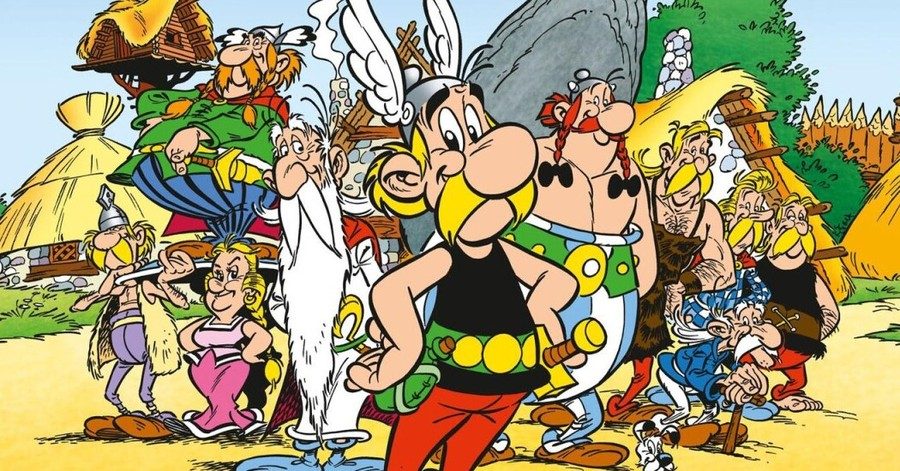 No surprises here! The adventures of the irreducible Gaul have always been the favorites of the French. Real national treasure created by Uderzo and Goscinny, to date, 38 volumes have been published, and each new publication is therefore a real event awaited by all!
Translated into 111 languages, the Asterix albums have sold more than 380,000,000 copies, placing the little Gaul at the top of world comic book sales! In short, an absolute must for any comics amateur, and one of the best entry points into the world of comics for neophytes.
For those of you who are not yet familiar with this hero, you will be transported to the year 50 AD, to a small Gallic village resisting the Roman Empire of Julius Caesar. Asterix and his friend Obelix travel to the 4 corners of the ancient world and fight for their freedom alongside colorful characters with explosive personalities, all with irreplaceable humor, and helped by the famous magic potion which gives them powers worthy of Marvel superheroes. A must-read for everyone!
Gaston Lagaffe

Make way for the real clown of this top! As his name suggests in French, Gaston Lagaffe is the archetype of the blundering character. Lazy or even incapable, he embodies the anti-hero par excellence, who charms us with his simplicity, humor, and eccentric inventions. Created in 1959 by the Belgian André Franquin, the character evolves in the same universe as other characters such as Spirou and Fantasio as well as the Marsupilami!
So what is it about? Not really exhilarating adventures, but an astonishing daily life where Gaston shines through his counter-productivity at work, his laziness and his nonsense. Second-degree and schoolboy humor is what's what with this colorful character!
Lucky Luke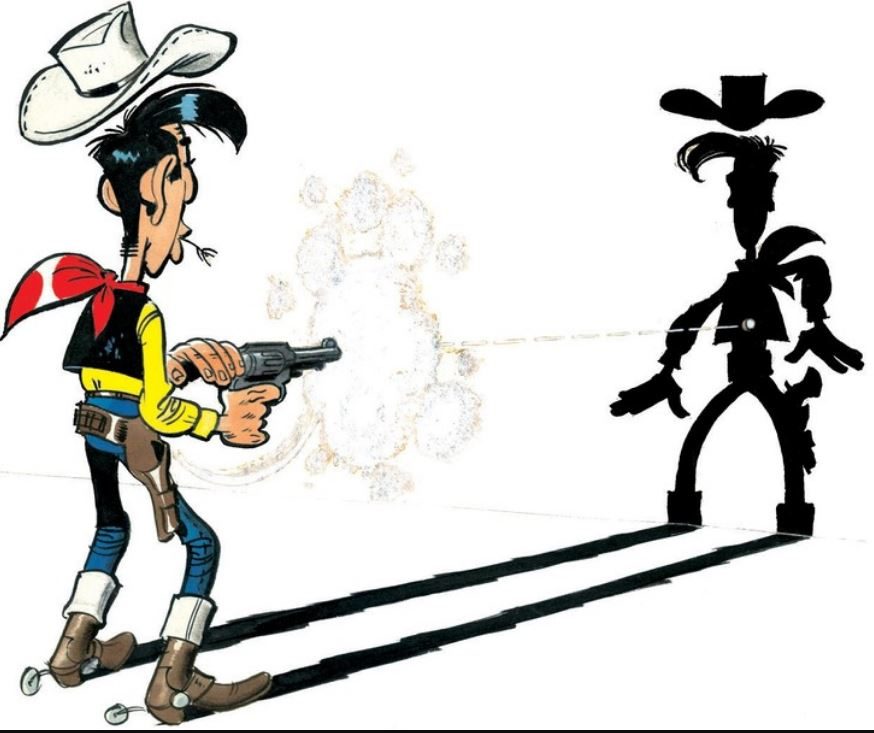 Let's leave Europe and France for a while to cross the Atlantic Ocean and go back a few centuries to find ourselves in the heart of America in the days of the Wild West. Created by the Belgian Morris, Lucky Luke is one of the oldest and most prolific sagas in the history of French-speaking comic books, since it has no less than 95 albums published since 1946!
Known for shooting "faster than his shadow", Lucky Luke is a lone cowboy who roams the desert plains of America with his two faithful companions, Jolly Jumper (his horse) and Rantanplan (his dog). Tracking down the outlaws, Lucky Luke crosses paths with legendary bandits based on real historical figures such as the Daltons gang, Billy the Kid, and Calamity Jane. History buffs will not be left out with his Comic, since many personalities appear in the dashing cowboy's albums, such as Buffalo Bill, Abraham Lincoln, and many more!
A comic book for all ages that will delight lovers of adventure, history, and of course, Western movies!
Les Schtroumpfs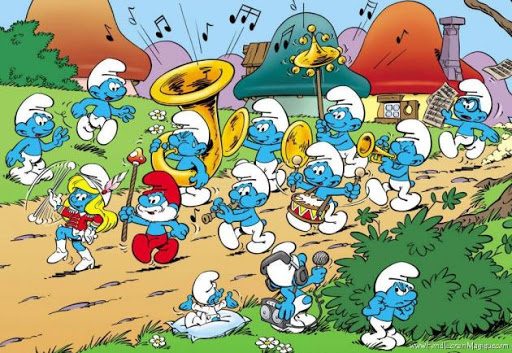 Again, a huge piece of Francophone culture! If the Americans know them under the name of Smurfs, in particular thanks to recent 3D animated films, the little blue men come straight from Belgium. Created in 1956 by Peyo, the Smurfs have 38 main albums and take us to a medieval fantasy world.
Reading the Smurfs is undoubtedly one of the most special in this ranking, and even in the whole world of comics. Because indeed, the Smurfs use a unique language, the "Smurf" (quite simply), where the word "Smurf" readily replaces verbs, adverbs, or nouns… which should surely confuse unaccustomed readers! What this means is that this comic is probably not the best for learning vocabulary… but this imaginary language paradoxically makes reading for non-French speakers easier, since they can deduce the meaning of Smurfs sentences depending on the context.
Most of the albums revolve around community life in the Smurf village, the personality of each of its inhabitants, and their fight against the sorcerer Gargamel who wants to seize their magic.
Babar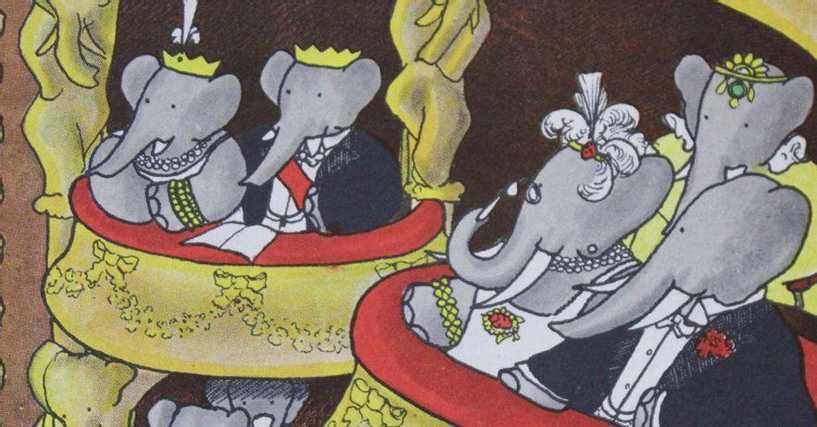 Babar is arguably the most unique comic in our selection. First of all, because it is to a woman that we owe the creation of Babar, the French and Parisian Cécile de Brunhoff. Then because its graphic style is totally different from the comics seen until then, with less vivid, softer colors and pastel tones, with fine illustrations and an outdated style. Babar the Elephant has an absolutely irreplaceable timeless charm that you cannot resist! Finally, because its synopsis is one of the most original: Babar is a civilized elephant with human qualities. After Babar's mother is killed in the jungle by hunters, young Babar escapes from the jungle and finds himself lost in a large city. An old lady, Christelle, welcomes him, dresses him, and hires a tutor. After learning the human way of life, he returns to the jungle to teach his fellow elephants to civilize themselves and find his kingdom.
Translated into 27 languages, the 75 or so volumes of Babar are known in more than 150 countries, where they have been sold more than 13 million times. The elephant king is even a real phenomenon in Japan since no less than 15 special shops are dedicated to it.
Babar is an absolute must-have for bedtime stories.
Titeuf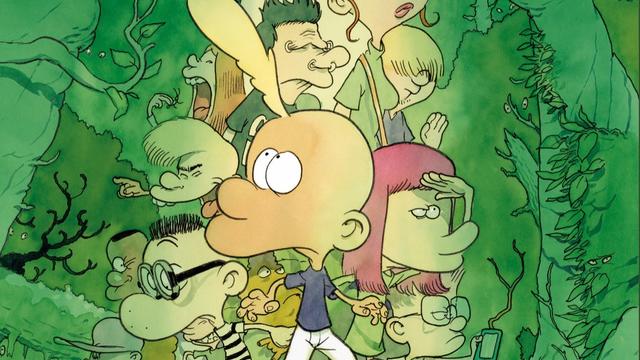 How not to mention in this selection Titeuf, THE comic book par excellence for children and pre-adolescents from the 90s to the present day?
A real hit in France, the Titeuf series deals lightly with very serious themes: first love and sexuality, family environment, education, and school. We therefore follow the eponymous 10-year-old protagonist braving the trials of his daily life, supported by his beautiful band of mischievous friends, and who only has eyes for Nadia, the love of his life.
Created in 1993, this time by a Swiss, "Zep" (real name Philippe Chappuis), Titeuf is a series of 16 albums, and has been adapted in all formats: books, video games, board games, and cartoons.
Also to discover
Léonard, by Bob de Groot
Le Petit Spirou, by Tom and Janry
Le Marsupilami, by André Franquin
Boule et Bill, by Jean Roba
The Best French Comics for Adults
Les Aventures de Tintin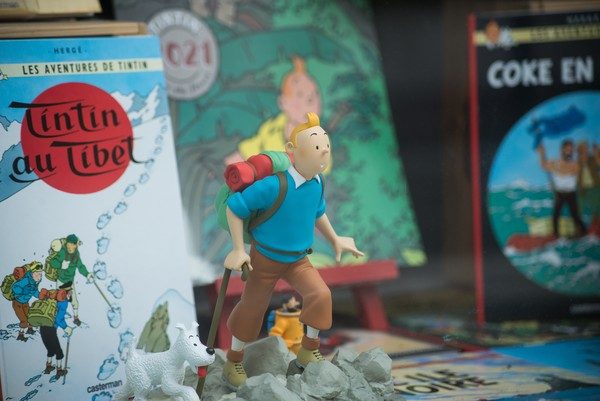 Another major heavyweight, created by Belgian author Hergé, Les Aventures de Tintin consists of 24 exceptional albums for 250,000,000 copies sold around the world, translated into 50 international and 43 regional languages. This comic is a true patriarch in the world of the edition, with the first publication in 1929, almost 100 years ago!
The adventures of this big-hearted journalist take us all around the world to unravel the secrets of lost civilizations, discover treasures, experience exhilarating adventures, brave the dangers of wild, mysterious, or inhospitable lands, or even send us on the moon! Accompanied by his faithful dog Snowy, Tintin brought into popular culture emblematic characters such as the grumpy Captain Haddock, the lunar Professor Tournesol, the comic duo Dupont and Dupond, without forgetting of course the emblematic Château de Moulinsart.
Fast-paced investigation with mature themes that will suit young teens and adults in particular!
Les Aventures de Blake et Mortimer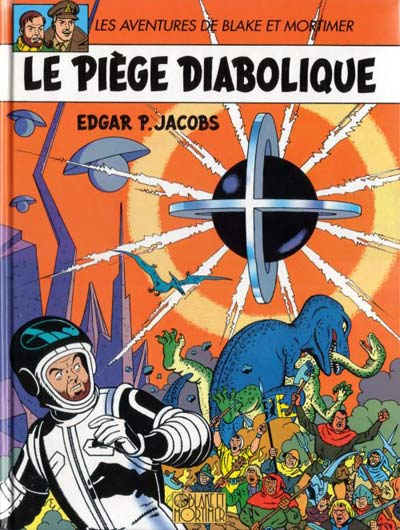 It is to the Belgian Edgar P. Jacobs that we owe in 1946 the creation of this intrepid duo of adventurers.
The first, Captain France Blake, is a former pilot now at the head of MI-5, the famous secret service of the English Crown. As for Philip Mortimer, he is an eminent British scientist who specialized in nuclear physics. Their nemesis, which appears in almost every book, is Colonel Olrik, an international criminal. This comic wraps traditional mystery, Cold War-era espionage, and sci-fi elements all in one, which can take them from a routine police investigation to a journey through time.
26 volumes of their adventures are available, and 2 more are in production and will delight all fans of spy and investigation.
XIII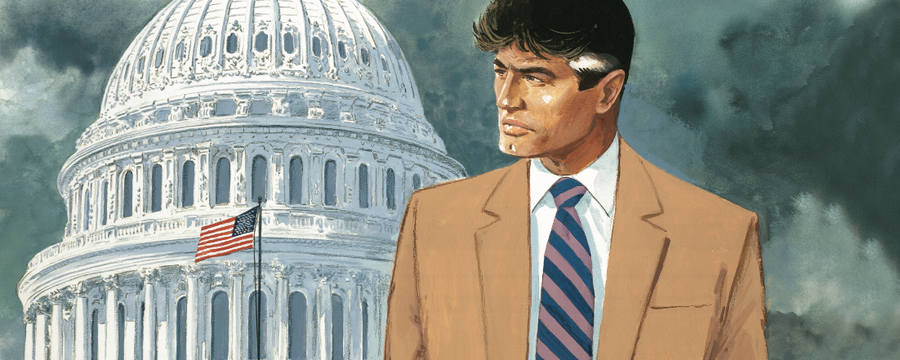 With its screenplay à la Jason Bourne, XIII aims to unravel the story of the mysterious fate of its protagonist in the throes of memory loss. We follow "XIII" around the world in his quest for identity to remember who he is: an assassin, a mercenary, a soldier? with the only initial clue being the number XIII tattooed on his neck.
Over some 27 albums, we are told of XIII's attempts to find his identity, while he is constantly pursued by assassins and secret agents.
Created by two Belgians in 1984, William Vance (Drawing) and Jean Van Hamme (Screenplay), XIII is one of the most modern comic book series and will be perfect for lovers of Thrillers, conspiracies, and adult themes.
Largo Winch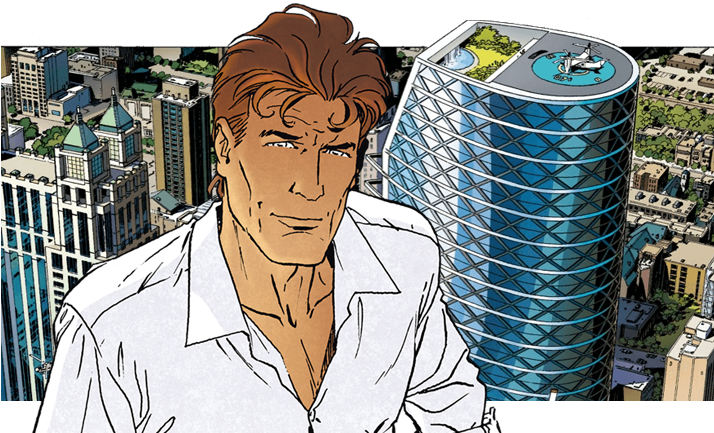 We again find the Belgian Jean Van Hamme behind the wheels of the Largo Winch series, the publication of which actually precedes that of XIII, since the first volume came out in 1977.
Largo Winch tells the story of the heir to one of the world's greatest fortunes, Nerio Winch. Secretly adopted in Yugoslavia, the life of young Largo will change when his adoptive father is assassinated, and he finds himself at the head of a financial empire that attracts all jealousy and envy. Refusing to live in this restless environment of crooks, Largo leaves to live a life of playboy adventurer alongside his faithful friend Simon Ovronnaz Switzerland, ex-thief, and Freddy Kaplan, former pilot of the Israeli Air Force living under Monegasque nationality. Nothing better than escaping the daily grind and dreaming of an epic billionaire life!
Also to discover
Rahan, par Roger Lécureux et André Chéret
Thorgal, par Jean Van Hamme et Grzegorz Rosiński
Lanfeust, par Christophe Arleston et Didier Tarquin
---
You liked it ?
Learn French at Atelier An Phu and consult our books and Comics in French for free! Contact us!
---