With 61.3 million smartphone users in Vietnam, the country is one of the most "mobile-friendly" ones, with nearly 2/3 of the population equipped, and a booming electronic and telephone industry.
It is therefore time for us to look into the educational uses that these devices allow, and in particular, in language learning, a practice in constant progression among the Vietnamese, whether it constitutes a hobby or a real career plan.
This digitization of the population and its habits – which has continued to grow stronger as a result of the global COVID-19 epidemic, in particular with many courses now offered online – can be an asset of choice in language practice, and this is why in this article we are going to take a look at the top mobile applications for learning French.
If of course, when it comes to the practice of a language, nothing will ever replace interactions with real people and a qualified teacher, it is undeniable that mobile apps are remarkable tools for doing daily exercises and revising whenever you get a free moment.
Babbel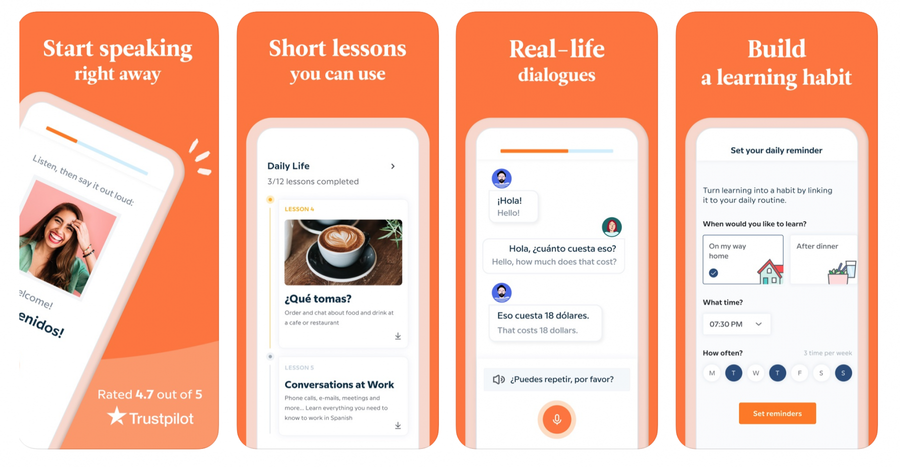 This is one of the oldest online language learning portals, which has been converted into an app for our phones. On Babbel, work on French by category: vocabulary, grammar, oral comprehension, and oral expression thanks to a voice recognition system.
The Babbel application is recommended for beginners up to a B2 level, ie fluent use of French.
Strengths:
Attractive pricing
Individualized learning plan that adapts to your original language
Covers all basics
Weaknesses:
The subscription is only valid for one language
Not intended for the most advanced levels
Repetitive Lessons
No community aspect
Pricing :
1 month: 12,99€
3 months: 10€ per month
6 months: 7,50€ per month
12 months: 5€ per month
Mondly
Founded in 2013, Mondly works with 3 learning levels: beginner, intermediate, and advanced, and is one of the most modern apps. Using virtual or augmented reality modules with a headset, you will have access to interactive resources and 3D models for immersive French learning!
Beyond these innovative modules, Mondly offers other uses according to your objectives, such as:
Mondly KIDS, for children
Mondly WORKS, for companies wishing to follow the learning of their employees
an Artificial Intelligence Chatbot with which you can talk
And every day, you will have access to your daily lesson to progress quickly, all covering all topics of everyday life.
Strengths:
Life subscription very interesting financially
Suitable for children
Innovative functions
Learning statistics and rankings with other Internet users
Weaknesses:
Limited vocabulary
Limited grammatical explanations
Pricing:
1 month: 9,99€
12 months: 47,99€
Lifetime: 60€
Busuu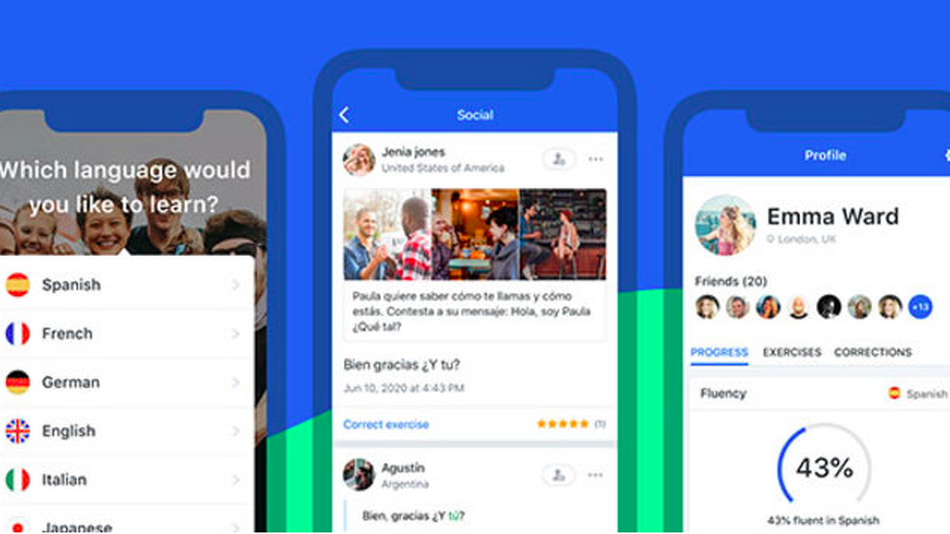 Less well-known, Busuu is nonetheless no less interesting than its competitors, in particular thanks to the possibility of chatting directly with other users!
Beyond this rather unique community aspect, Busuu uses all the right tools to work on the fundamentals: pronunciation, writing, reading, grammar, and spelling.
Strengths:
Free version sufficient to get a good idea of the application
Excellent for grammar rules
Possibility to exchange vocally with native speakers
Weaknesses:
Not very relevant beyond level B2
Few pronunciation exercises
Pricing:
1 month Premium Plus : 6,50€
12 months Premium : 34,99€
FluentU

Are you a Podcast and Youtube aficionado? FluentU is made for you!
FluentU takes video content that can be found everywhere, such as music videos, movie trailers, commercials, Ted Talks, and many more, and turns them into language lessons.
Strength:
Weakness:
Much more expensive than the competition
Pricing:
Free for the first two weeks
1 month: 15€
12 months: 120€
TV5 Monde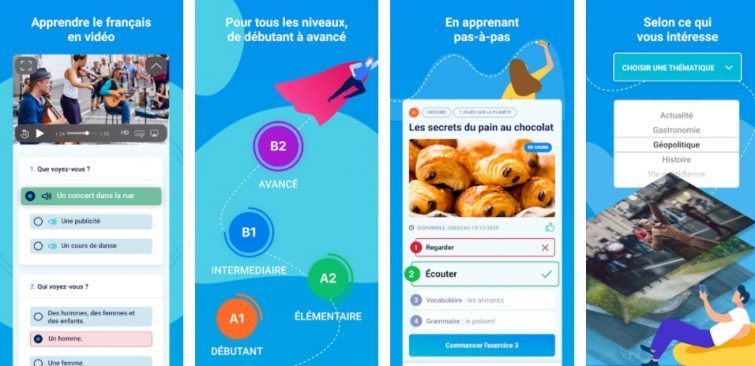 We were already referencing it in our "learning material" section: TV5 Monde in all its forms, TV channel, website, and now app is a must for all people wishing to learn French, and above all, to know more about French culture and the Francophonie.
The application is no exception. Even though the application is completely free, it offers more than a respectable number of exercises, since some 3000 are available to improve your command of French. As you might expect, many of these exercises are based on content (especially video) coming from the TV channel and will help you improve grammar, pronunciation, and vocabulary.
TV5 Monde application is available in 8 languages, German, English, Arabic, Korean, Spanish, Japanese, Brazilian Portuguese, and … Vietnamese!
Strengths:
Free
High quality content
Emphasis on French culture
Weakness:
No exercises beyond level B2
Pricing:
Bravolol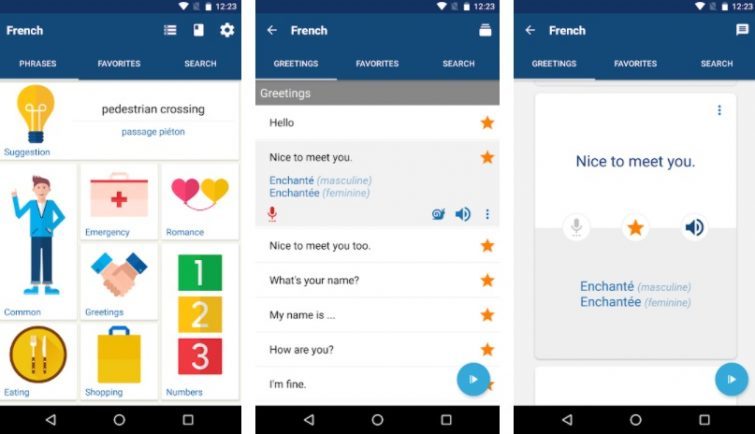 Much more basic than the other applications cited here, Bravolol deserves a special mention since the app is entirely free.
It's a good start before moving on to the competition and acquiring basic vocabulary for everyday life. The application is indeed focused on learning some 800 central phrases and expressions (and 8000 words).
Strengths:
Searchable offline
Good for beginners
Weakness:
Pricing:
---
Do you want more?
Learn French at l'Atelier An Phu with our native teachers!
---