Why study in France?
Many Vietnamese students choose France to do their higher education. Currently, there are 7000 Vietnamese students in France. In 2018, 1700 new students joined France.
Why this attraction to France? The reasons are not lacking.
The French higher education system is one of the best and most accessible in the world.
France offers many types of diplomas, from the BTS or DUT, through the "licence" (Bachelor), the Master or Doctorate: the cycles of study are of variable duration and cover every topic possible.
French universities deliver quality diplomas, recognized worldwide, and they welcome international students with open arms.
With currently 350,000 foreign students, France is the fourth largest student host nation in the world and the largest in Europe.
What are the school fees and financial aids to study in France?
It is easy to go to study in France after Vietnam. Registration fees are affordable, particularly in public higher education institutions, where one year's degree will be 2770 euros per year for E.U citizens and 3770 euros per year for non-European students. A large part of Education is financed by the French State. Foreign students also receive the same State support as French students in terms of housing and social security.
In addition, students are entitled to reduced rates for transportation and leisure, which makes student life quite enjoyable! French culture becomes more accessible to foreign students.
What are the steps to study in France from Vietnam?
When a foreigner wishes to study in France, he must follow a specific and compulsory procedure in Vietnam to obtain a student visa: the EEF procedure, "Etudier En France" (i.e "Study in France").
It is an online platform that allows students to fill out their application form with universities, or their pre-consular file to apply for their student visa.
The platform also allows you to register for the French language test (TCF). Once the file has been validated by the Campus France team, the candidate will have to undergo an interview.
Each candidate who does not have a European nationality and lives in Vietnam must perform this procedure to apply for a student visa.
The TCF
Students who wish to follow a course in French can have their level of French assessed by passing the test TCF (Test of Knowledge of French). This is the language level test in French recognized by the French Ministry of National Education. The test also allows you to take stock of your knowledge of French. Although this test is not necessary for students following a course in English, it is recommended to have a level A2 in French, for better integration in France. Students of all ages can pass the TCF.
For students in Ho Chi Minh City, Campus France, the public body that promotes the French higher education and vocational training system, organizes test sessions. The corrections are made by France Education International (formerly CIEP), a body under the supervision of the Ministry of Education and Higher Education, in cooperation with the Ministry of Foreign Affairs, and sent to Campus France within three weeks.
DELF and DALF are also accepted by French higher education institutions. Some candidates may be exempted from tests such as those who obtained a French baccalaureate less than 4 years ago and candidates who have followed a bilingual French course at Vietnamese High School.

How to prepare the TCF in Vietnam
TCF is a test that assesses the candidate's ability to use French as part of his studies. The candidate who wishes to improve his level in French has clear objectives to reach through tests of comprehension or oral and written expression. The practice of French (reading, discussion, comprehension by watching TV or listening to the radio) is recommended to prepare for the test.
Atelier An Phu offers TCF training. To get acquainted with the test, students can find out more about France Education International, the RFI website, or TV5MONDE.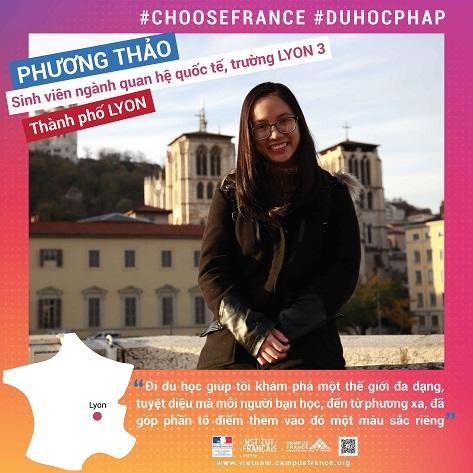 Testimony of a Vietnamese student in France
Phương Thảo – International Relations Student, Lyon 3 University
"This year, I am lucky to receive the French government scholarship for one year of Master in International Relations in the city of Lyon. These studies have opened my eyes to a diverse and beautiful world, in which each of my comrades, as far as they come from, brought a different color. I was able to talk with my friends from Africa, Europe, America and other Asian countries. I am enriched not only with the lectures but also with these unforgettable friendly exchanges. I discovered a typical French town, that I find so nice and so kind. To study in France for me is to live a second life, to discover another world and also another side of me."
Source: Campus France
Chercheur, Fashion Designer, Ingénieur, … On peut tous réaliser son rêve en France ! 🤩

🌟Viens étudier en France et réalise ton rêve😉#RealiseTonReve #BienvenueEnFrance #EtudierEnFrance pic.twitter.com/q4SrE9KK7O

— Campus France (@CampusFrance) October 10, 2019