September is just around the corner, and if school and work are on everyone's mind, it's also a good time to get back to one or more sports activities to stay healthy, keep a good sleep and develop one's mental strength to be focused and balanced all year long!
Sports being one of the best ways to fit into a new city, it's a chance Saigon swarms with sports clubs and sports centers, giving everyone a chance to practice their favorite activities. So what sports can you do in a club in Ho Chi Minh City?
Individual or team, here is a non-exhaustive list of sports that you can practice in the city of Saigon.
Play Football (Soccer) in Saigon
Let's start with football, the most watched team sport in the world … and Vietnam is no exception. Many locals or ex-pats meet for training, friendlies, or even championships across the city of Ho Chi Minh and Vietnam. Here are two football clubs we recommend:
Club founded in 1994, the Olympic Saigon is a French football team in Ho Chi Minh City and it participates each year in a competition that brings together a dozen teams, composed of expatriates, trainees, and Vietnamese, who battle for the title between September and June.
Workouts take place every Tuesday in a friendly atmosphere.
Join the team by sending a private message on their Facebook page.
The Saigon Saints was founded in 1995 and is known for its great diversity. This club now has players from Ireland, England, Scotland, France, Belgium, the Netherlands, Spain, Sweden, the United States of America, Australia, New Zealand, Thailand, Denmark, Ecuador, Singapore … the list goes on!
Training is on weekdays and there is no obligation to play in the league, so if you just want to see new faces while unveiling your best legs, it's also possible.
The training costs only 100,000 VND per session, you can register by calling 01227.696.218 or writing an e-mail to saigonsaints@gmail.com.
Other football clubs in Saigon
Apart from the Saints and Saigon Olympics, you can also play in the following clubs of the Starbalm International Football League:
Saigon Raiders

Saigon Hotshots

Japan SFC

Sporting Saigon

Korea United FC

Fighting Cocks FC
You can also join the Facebook page "Football in Saigon" and its 2000+ members for all things Football in Ho Chi Minh City!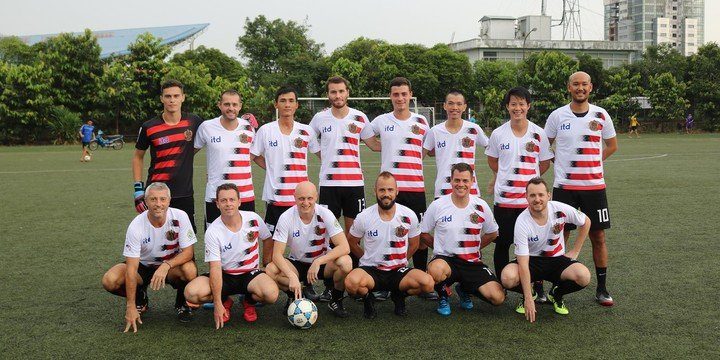 Play Gaelic Football in Saigon
This Gaelic mixed football club was founded in 2005, all nationalities are accepted and there is even a special price if you already know someone on the team!
The training sessions take place on Saturdays but also on weekdays.
Other clubs are also available, you can find them by clicking on the following link: https://www.facebook.com/siflvietnam/
Play Rugby in Saigon
Club founded in 1992, ex-pats and Vietnamese can become members, adults and children are accepted as well as men and women… absolutely everyone is welcome! Two activities stand out, rugby contact and touch rugby.
Contact rugby is the sport you probably have in mind where two teams make scrums and rugby to recover the oval ball.
On the other hand, touch rugby is a sport from Australia. Its rules are more like rugby 13 than rugby 15. As for contact rugby, the goal of this sport is to score more tries than the opposing team. But in touch rugby, the 6 players of a team can stop the progression of the other team simply by touching (with a hand) the opposing players. Touching can be done on any part of the player or the ball. Violent contact is not allowed, there is no veneer in the rugby sense of the term.
Therefore, the practice of the Touch can be done in a mixed way. Mixity is also highlighted in this sport and today represents its specificity.
Workouts are Thursdays and Saturdays depending on the sport.
You can register by sending a private message on the club's Facebook page.
Play Handball in Saigon
Handball is still an underrated sport in Vietnam. This team sport is played by hand, and two teams of seven players compete with a ball where the goal is similar to football.
Founded in 2013, the Saigon Handball Club, which is mixed, trains every Tuesday night in Binh Thanh for only 100,000 VND per session.
Address: Trung Tam The Duc The Thao, 8 Phan Dang Luu Street, Binh Thanh District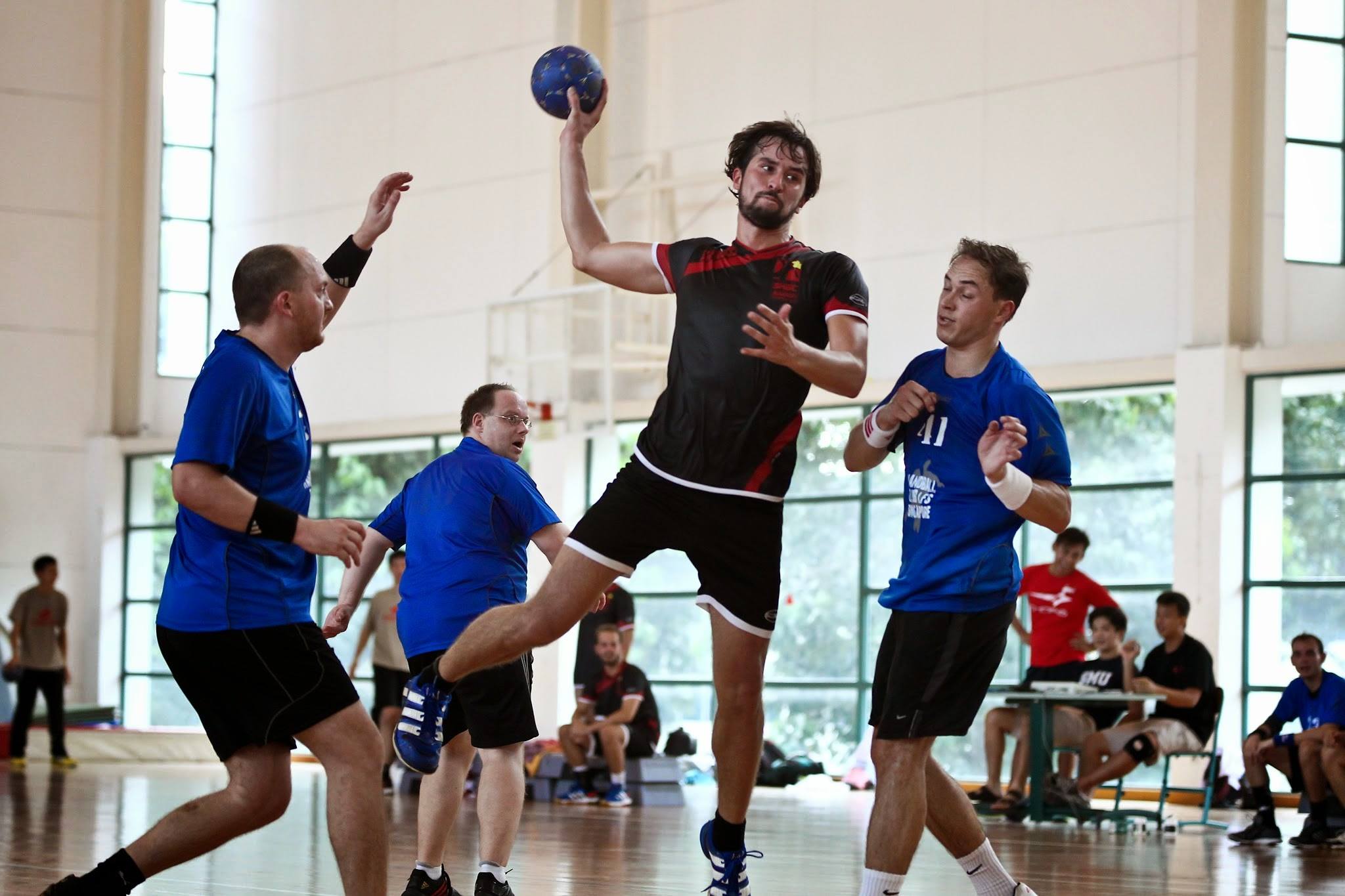 Play Basketball in Saïgon
In this multidisciplinary sports center, in addition to football, tennis, swimming, and even chess (!), you can play Basketball at all ages.
If you are lucky, you can even see professional players of the Saigon Heats who sometimes train there.
Address : 216 Trần Não, Bình An, D2
Attached to the Australian International School, the sports center is nevertheless open to the public, and has some sports for children of all ages, including basketball. Count 200,000 VND for a session of 60 minutes, and 230,000 VND for 90 minutes.
The center also offers football, swimming and karate training.
Address : 36 Thảo Điền, D2
Play Tennis in Saigon
Tennis is not very common in Vietnam and yet a small community of amateurs participate in team championships on Saigon.
You can contact them via their dedicated Facebook page.
Climbing in Saigon
For fans of heights, climbing is the best alternative. This sport strengthens muscles, endurance, and balance but also flexibility and perseverance!
You can go to the Vertical Academy occasionally or get a subscription to do inside and outside climbing, as well as take private lessons.
Address: 789D SW 1 Binh An District 2
Trampolining in Saigon
Here is a sport that is out of the ordinary: the trampoline! Many activities can be exercised while jumping in the air and the Jump Arena is the perfect place to experience many activities.
You can find safe sports with a trampoline on the ground, such as climbing, high performance (an activity that defies the laws of gravity, and where the goal is to walk as far as possible on a wall to 90 ° off the ground), the sky challenge (which is the equivalent of tree climbing, but indoor), or the ninja challenge (which consists of a course where you must not touch the ground).
We also find jumping sports such as free jumping, the giant airbag that allows you to practice your jump of the angel without fear of scratches, the foam pit, this pool filled with foam for a cushioning secure to 200%, and many other activities!
Addresses :
63 Xa Lo Ha Noi, Thao Dien Ward, District 2
2 – 4, Route 9, Tan Hung Ward, District 7
5-6 floor, 242 Pham Van Dong Street, Hiep Binh Chanh Ward, Thu Duc District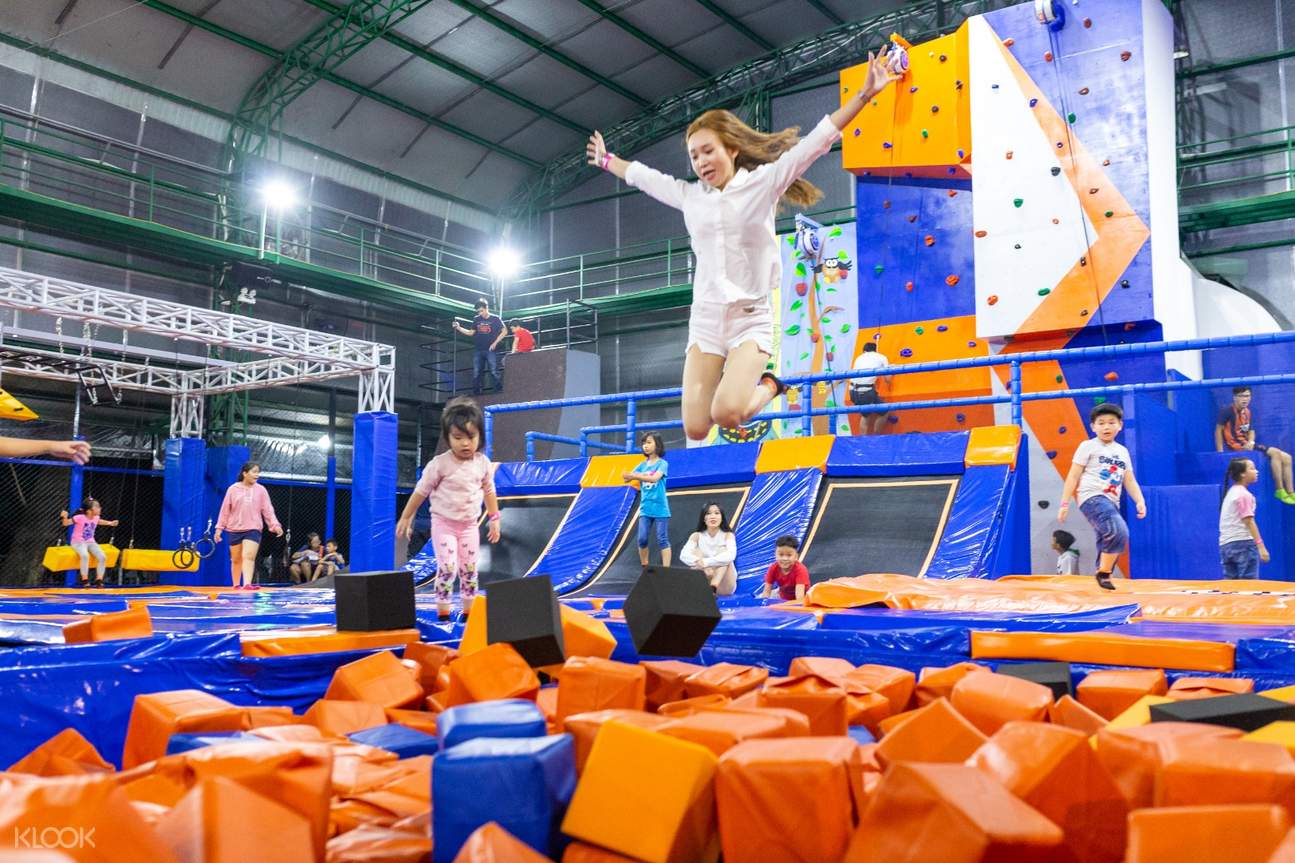 Practice combat sports and martial arts in Saigon
In this sports club, you will have all the cards in hand to become an expert in martial arts. Cardio/cross training, Kick Boxing, Muay Thai, MMA, Grading, Grav Maga, viet vo dao … there is something for everyone.
Address: 40 Quoc Huong, Thao Dien, Dist 2
MMA (Mixed Martial Arts), Muay Thai, wrestling, and boxing are all on the list of this state-of-the-art sports center, which also features a basketball court, weight training equipment of all kinds, and a store to buy all your sports equipment.
Also enjoy the pool and sauna to recover from your fighting sessions, as well as a juice bar.
Address: 514B Huỳnh Tấn Phát, Bình Thuận Ward, Dist.7
Practice Yoga in Saïgon
Very fashionable, yoga is more complicated than it seems, with a work of flexibility and cladding that is very good for your body and allows you to relax all the while performing a physical effort.
At the Jiva Yoga Club in District 2, you will have many options to try yoga in various forms, including classes for children or prenatal classes for future mothers.
You can try this yoga club at sessions for a price of 350,000 VND, or enjoy other unlimited yoga offers or 10 courses.
The sessions start from 8:30, 10:00, or 10:30, every day of the week, and are held by 4 different teachers.
Address: Ngo Quang Huy 50, Thao Dien, District 2 (An Phu)
Run in Saigon
Saigon's Marathon
More and more popular, the marathon of Saigon will know in 2020 as its 7th edition.
Reserved for the most valiant and the most morning with a departure at 4:00 am Sunday, January 5, 2020, the course of 42km will see participants pass through the bridge of Phu My and most of district 7. Note that there are 3 other events: the half-marathon (21km), the 10km, and the 5km.
The marathon is also an opportunity to sponsor a good cause, since all registration fees are donated to charities, including ones for the victims of Agent Orange.
Bonus: Organize sporting events in Saigon
Thanks to this website especially dedicated to Vietnam, you will be able to get information about amateur sports events in Saigon.
On wesport.zone, you will be able to create or join games of:
Football (Soccer)
Futsal
Basketball
Badminton
Tennis
It's the ideal way to create tailor-made sports encounters, find new opponents and meet friends.
---
---